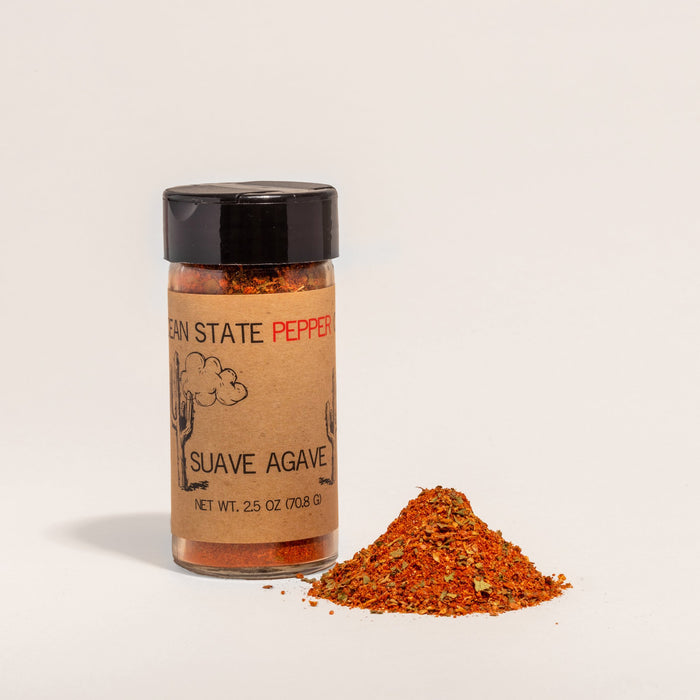 Suave Agave Southwest Seasoning by Ocean State Pepper Co.
$2.00/oz.
A SOUTHWEST INSPIRED RUB

Ocean State Pepper Co.'s interpretation of the American Southwest showcases wonderful flavors deeply rooted in tradition.  Coriander, lime zest, orange zest, and cumin are blended with Ocean State Pepper Co.'s signature chile powder...a harmonious blend of smoked paprika, ancho chile, guajillo chile, and aji amarillo powder. Agave powder and honey highlights the rich flavors of this mix, which is then finished off with plenty of garlic, ground black pepper, and sea salt. 
A safe bet for your spice cabinet arsenal, this well rounded seasoning can be used for everything from seared fish or chicken, and grilled pork and beef, to salad dressings and  marinades.  Or simply use it as a finisher to your latest creation.  Enjoy!
Look for recipes on the OSPC website here.
A few ideas from the test kitchen:
A wonderful dry rub for chicken wings and pork ribs.
Mix with orange juice, rice vinegar, and salad oil for a great dressing.
Try it as a blackening spice for salmon.
Southwest burgers with avocado and pico de gallo.
Even great in soups, stews, and 100% chili approved.
Ingredients:
Asta 120 paprika, aji amarillo, guajillo chile, ancho chile, smoked paprika, black pepper, granulated garlic, granulated onion, cilantro, coriander, oregano, lime peel, orange peel, cumin, sea salt, honey powder, agave inulin powder.