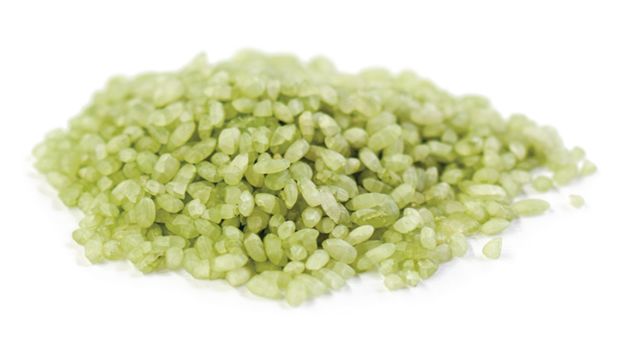 Rice, Jade Pearl Green, Organic
$4.95/lb.
Jade Pearl Green Rice, Organic.   By Lotus Foods 
To learn more about Lotus Foods mission click here.
Ingredients:  Organic Short Grain, Sushi-Style Rice, Wildcrafted Bamboo Extract.
Allergens:  No known allergens. This product may contain traces of allergens.
Storage:  Store in an air tight container in a cool, dry place, away from direct sunlight. Refrigeration recommended in warm climates.
Shelf Life:  Up to 36 months following the storage instructions above.
Description:  Organic Jade Pearl Rice™ is an organically grown sushi-style rice infused with wild-crafted bamboo extract. Lotus Foods has been purchasing this short grain rice from certified organic family farms in northeast China for 15 years. When cooked, Jade Pearl Rice produces the aroma of a bamboo forest, a light vanilla taste and a perfectly sticky yet fluffy texture.
Directions:  Do not rinse or the bamboo extract will wash off! Combine 1 ½ cups of water, 1 cup rice and a pinch of salt. Bring to a boil over high heat. Cover, reduce heat and simmer for 20 minutes. Remove from heat. Let stand covered for a few minutes. Fluff and serve. A rice cooker may be used with the same water-to-rice ratio.
Click here for a great rice milk recipe from Lotus Foods, using Jade Pearl Green Rice.
Serving Suggestions:
A dramatic presence on any plate, this rice lends itself to:
Sushi
Buddha Bowls
Rice Salad
Poke Bowls
Pudding
Product Origin:  China