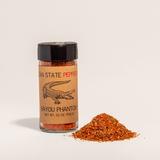 Bayou Phantom Cajun Seasoning by Ocean State Pepper Co.
$1.38/oz.
Bayou Phantom Ghost Pepper Cajun Seasoning
This is Ocean State Pepper Co.'s take on creole cooking.  It brings the heat with the intense flavor of the ghost chili, rounded out with pecan smoked sea salt, sweet paprika, and choice herbs, which finish this delicious Cajun seasoning. This spice blend is great for all things seafood, as well as chicken, rice dishes, and anywhere else you need some fire! 
A few ideas from the test kitchen:
A fantastic blackening spice for fish.
Sprinkle on buttered corn on the cob.
Dry rub for ribs, chops, and chicken wings.
Substitute for any generic Cajun seasoning.
Paella, etouffee, gumbo, jambalaya.
Finishing spice for a crab, crawfish, or shrimp boil.
Ingredients:
Asta 120 paprika, sea salt, granulated garlic, black pepper, granulated onion, thyme, oregano, sage, ghost pepper.