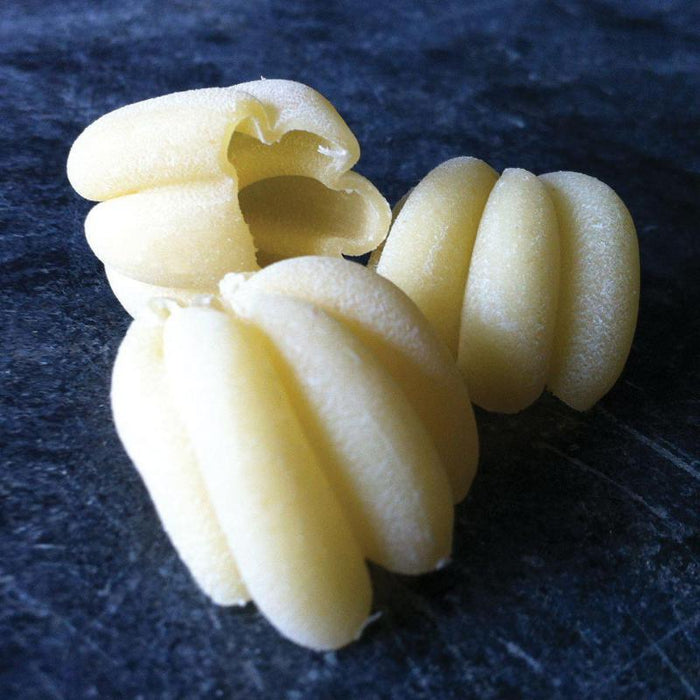 Zucca Semolina Pasta, Organic by Sfoglini
$5.55/lb.
Plump and round as the end of a zucchini or an open pumpkin, zucca or fioretti "little flower" offers a pasta pocket that fills up with any red or creamy sauce to deliver a perfect juicy bite.
Ingredients:  Organic Durum Semolina Flour, Water.  Contains Wheat.
NORTH AMERICAN GROWN ORGANIC GRAINS 
Sfoglini pasta is made with the finest organic golden semolina and specialty grains that are always grown on North American farms.


MILLED WITH CARE IN THE UNITED STATES 
Sfoglini works with local flour mills in New York to source whole grain flours: everything from Hard Red Wheat to ancient grains like Emmer and Einkorn.


BRONZE DIE EXTRUDED AND SLOW DRIED 
Traditional bronze die extruded and slow dried (that good Italian way), Sfoglini pasta has a rough texture that gives your sauce something to cling to.


CHEF-CRAFTED IN NEW YORK'S HUDSON VALLEY 
Sfoglini pasta is made and packaged with a lot of care in New York's Hudson Valley. It's quality you can taste from the field to the bowl.