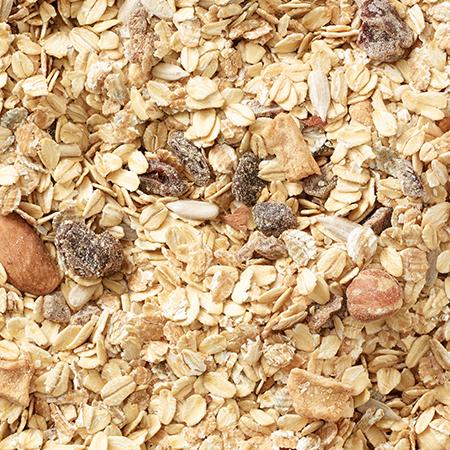 Muesli, Swiss Style, Organic by Grandy Oats
 $7.50/lb.
Organic, Swiss Style Muesli is loaded with crunchy almonds and hazelnuts, plump dates and raisins, and dried apples. Soak it overnight with any organic milk, yogurt, or fruit juice to create a satisfying breakfast. Vegan Swiss Style Muesli is made in small batches at our solar-powered bakery and just like the sun, it provides you with sustained energy to power your adventures. Muesli is one of the best selling cereals worldwide. 
Certified Organic
Non-GMO Verified
Kosher
Salt Free 
Vegan
Made in Small Batches at a Solar-Powered Bakery
Ingredients: Organic Oats, Organic Rolled Wheat, Organic Raisins (Organic Raisins, Organic High Oleic Sunflower Oil), Organic Rolled Rye, Organic Sunflower Seeds, Organic Date Pieces (Organic Dates, Organic Rice Flour), Organic Oat Bran, Organic Dried Apple Pieces, Organic Roasted Almonds and Organic Roasted Hazelnuts.

Contains: Almonds, Fiberts/Hazlenuts and Wheat.

Allergen Advisory: Created in a bakery that uses peanuts, tree nuts, wheat and soy.