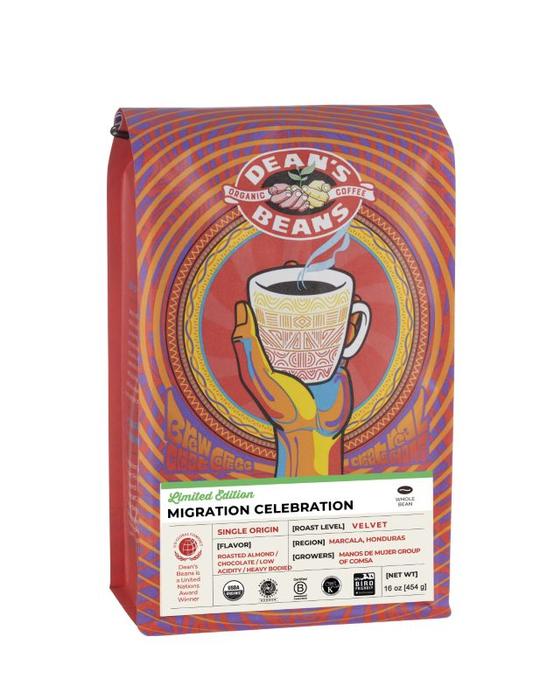 Migration Celebration, Bird-Friendly Certified, Organic by Dean's Beans
$14.75/lb.
100% Bird-Friendly Honduran coffee - Dean's Beans' celebration of their commitment to protecting migratory birds and their habitat!
This coffee is roasted to a very approachable middle ground, in between their medium and dark roasts, velvet, as they like to call it.  It's super smooth and full bodied, the acidity is very mild, and the chocolate notes are prevalent. It's hard not to like. 
 Dean's Beans collaborated with this community to design and implement the following initiatives:
Reforestation
Promoting agroforestry
This coffee is entirely produced by women, the Manos de Mujer group (Hands of Women), formed in 2013 to improve the living standards of the women producers of COMSA, and also to diversify their farms, in order to create a more stable income, year round. 
All of their farms are certified Bird-Friendly by the Smithsonian Migratory Bird Center, so the coffee is shade-grown, under a diverse canopy of native trees, providing critical habitat to migratory birds from North America. Many of these trees are also fruit trees, so in addition to providing migratory bird habitat, and soil health, it also provides farmers with additional income during the off season from the sale of fruits. Bird-Friendly is a true win-win-win for the birds, for the earth, and for the farmer!
Cupping Notes: Chocolate. Roasted almonds. Heavy body.

[Roast Level] Velvet
[Region] Marcala
[Cooperative] COMSA
[Altitude] 1220-1524m
[Varietal] Bourbon, Typica, Catuai, Caturra
[Processing Method] Fully Washed