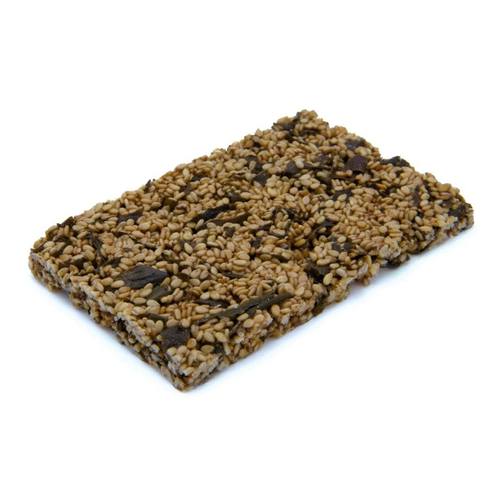 Kelp Krunch, Sesame Ginger Bar, Organic by Maine Coast Sea Vegetable
$1.65 ea.
Description
Maine Coast Sea Vegetable's  Kelp Krunch™  Sesame Ginger bars were created for those who love the flavor of ginger! A delicious, crunchy and slightly chewy treat made from whole sesame seeds, flakes of wild-harvested kelp, and added ginger. Lightly sweetened with brown rice syrup and Maine maple syrup to create a bar that's slightly sweet, a little salty, and packed with sea vegetable nutrition!
Certified Organic
No added salt – the kelp provides a full complement of salty-tasting minerals!
Free of gluten, nuts, dairy, soy, trans-fats, and GMO-ingredients
Contains just seven ingredients: Sesame seeds, sugar kelp (Saccharina latissima), maple syrup, brown rice syrup, ginger, cayenne powder, and vanilla extract
MCSV's sea vegetables are sustainably wild-harvested in the pristine waters of the North Atlantic, and lab-tested for quality and contaminants.
Visit MCSV's website to learn more about these great Sesame Ginger snacks:
Kelp Krunch™ Sesame Ginger - Organic – Maine Coast Sea Vegetables